Item Description
Its all-in-one convenience offers 50 blood glucose tests on a continuous tape and 6 lancets in a drum in the integrated lancing device. This system is the smart choice for people who are on the go and don't want to worry about carrying and disposing of strips and lancets after each check. Just 4 simple steps make it easy to monitor your blood glucose.
Accu-Chek Mobile test cassettes are NDSS subsidised for people with diabetes.
Benefits and Features
Clinically proven to help reduce HbA1c1,2
Use in 4 simple steps:

Open cover
Take blood sample
Apply sample
Read results and close cover 

1 cassette holds 50 blood glucose tests on a continuous tape
There are no single test strips to handle or dispose
25 languages to choose from
Program up to 7 alerts, reminding you to test
Display information guides you through the test procedure
2000-test memory
No coding required
Reports 7, 14, 30, and 90 day averages
The Accu-Chek FastClix integrated lancing device:

A single drum holds 6 lancets. There are no single lancets to see or touch
Easy, 1-click action is all it takes to prime and release
References:
1. Maran A. et al: Use of an integrated strip-free blood glucose monitoring system increases frequency of self-monitoring and improves glycemic control: Results from the ExAct study. Journal of Clinical & Translational Endocrinology 1 (2014) 161-166.
2. Fortwaengler K, et al. Better Adherence And Glycemic Control With The Integrated Strip-free Accu-Chek Mobile System At Marginal Extra Cost - Learnings From The ExAct Study. Diabetes Technology & Therpeutics (2014) 16:[Suppl1].
*Kocher et al: Comparison of Lancing Devices for Self-Monitoring of Blood Glucose Regarding Lancing Pain. Journal of Diabetes Science and Technology. Vol 3, Issue 5, Sept 2009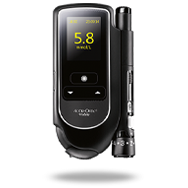 METER SIZE
121 x 63 x 20 mm
MEMORY
2000 tests
CASSETTE
50 tests
TEST RESULTS
Approx. 5 seconds
INTEGRATED LANCING DEVICE
Accu-Chek FastClix
How to use the Accu-Chek Mobile blood glucose monitoring system
The Accu-Chek Mobile system allows you to test in 4 simple steps.
Open the tip cover.
Press the lancing device firmly against the skin and press the release button to obtain a blood drop.
Apply sample to the centre of the test area.
Read results and close the tip cover.

Additional Specifications
Memory capacity:
Approximately 2000 measurements with time and date
Measuring conditions:
Temperature: +10° C to +40° C (+50° F to +104° F)
Temperature flagging: +8° C to +10° C or +40° C to +42° C (+46.4º F to 50º F or 104º F to 107.6 º F)
Batteries:
2 alkaline-manganese batteries (1.5 V; type AAA, LR 03, AM 4 or micro) or 2 lithium batteries (1.5 V; type AAA, FR 03, L 92), backup battery (not changeable): 3-volt lithium coin cell type CR1025
WARNING - KEEP BATTERIES OUT OF REACH OF CHILDREN. If you suspect your child has swallowed or inserted a button (coin cell) battery immediately call the 24-hour Poisons Information Centre
on 13 11 26 for fast, expert advice.
Battery life:
Approximately 500 measurements, or approximately 1 year. This could be less if settings that require more power consumption are used, e.g. if the brightness of the display is set to level 3, or the volume is set to level 4 or 5, or in acoustic mode.
Dimensions:
121 x 63 x 20 mm (L x W x H) (with lancing device)
Weight:
Approximately 129 g (with batteries, test cassette, lancing device, and lancet drum)
Storage conditions:
With battery: -10° C to +50° C (+14° F to +122° F)
Without battery: -25° C to +70° C (-13° F to +158° F)
With batteries and with test cassette: +2° C to 30° C
Humidity:
Between 15% and 85% with relative humidity during testing
Reminders:
7 individually programmable test reminders
The Accu-Chek FastClix lancing device:
Contains a lancet drum of six lancets
Lancets are advanced by rotating the advance lever
Virtually pain-free*
Videos
How to check your blood glucose with Accu-Chek Mobile