Item Description
Multiple safety features combined with customised settings make the Accu-Chek Safe-T-Pro Plus lancing device especially advantageous. This single use lancing device supports patient safety and ease of use. It also complies with the safety requirements demanded by health authorities, legislators, and health institutions.
Benefits and Features
3 adjustable depth settings allow the sampling of blood according to the skin condition of the patient
Each depth setting clicks into place and cannot slip out of position once selected
Special bevelled needle cut and needle diameter for almost pain-free blood sampling
Use with adults, children under 1 year and neonates
Save space and costs by using one type of lancet
Available in a box with 200 single-use lancing devices.
Designed for single use, to avoid cross contamination
The Safe-T-technology ensures that the needle is always safely stored in the housing, preventing accidental needle sticks
Automatic needle retraction after single use eliminates risk of injury and cross contamination
After the single use the complete lancing device is disposed of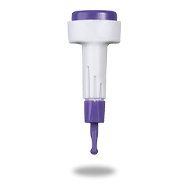 LANCING
In 3 milliseconds
DEPTH
1.3, 1.8 and 2.3 millimeters
STERILITY
4 years after sterilization
DISPOSAL
Entire device is for single use only. Disposal of used single-use lancing devices always in accordance with the local / facility's disposal procedures
Intended Use
Single use, obtaining capillary blood from the fingertip or, if the patient is a child under 1 year, from the heel.
How to use the Accu-Chek Safe-T-Pro Plus lancing device
1. Remove the sterile cap

Twist off the purple sterile cap.
Do not use the device if the purple sterile cap has been previously removed, as sterility may be compromised.
A built-in safety mechanism ensures that the lancing device can only be used once to prevent accidental needle stick injury ¹

2. Select penetration depth

Accu-Chek Safe-T-Pro Plus offers
3 adjustable depth settings for different sample sizes and skin types
Select the desired penetration depth only after removing the sterile cap and choose the depth you require by turning the depth adjuster *
Depth settings:

Low depth (1.3mm)
Medium depth (1.8mm)
High depth (2.3mm)





3. Obtain blood

Press the Accu-Chek Safe-T-Pro Plus lancing device firmly against the puncture site
Push and release button down
Collect blood
Use only as directed. Consult your healthcare professional for advice. Accu-Chek lancing devices are for single patient use only. The same device must not be used on multiple patients.
*Please check your local guideline for penetration depth settings.
Reference:
1. Data on file.
Additional Specifications
Adjustable depth setting:
Penetration depths:
Low (short marking) – 1.3mm
Medium (middle marking) – 1.8mm
High (long marking) – 2.3mm
Automatic retraction of needle :
Recognition of used device :
Sterility:
4 years after sterilisation