Item Description
The Accu-Chek Performa blood glucose meter makes blood glucose monitoring quick and easy. It's ready to use right out of the box, requiring no set-up. Each meter uses Accu-Chek Performa test strips and an Accu-Chek FastClix® lancing device. Helpful alerts remind you to monitor before and after meals, giving you valuable information to support therapy decisions for a healthy active life.
Benefits and Features
Large, easy-to-read display
Used with easy-to-handle Accu-Chek Performa test strips
Tiny blood sample: only 0.6µL of blood required
Fast results in 5 seconds
No coding needed, making the monitoring process quick and easy
No set-up required. It's ready to use right out of the box
Set up to 4 pre- or post-meal alerts, so you never forget to monitor
Automatically turns on when you insert a test strip
Saves energy by turning off automatically when you're finished testing
Time and memory are saved for up to 72 hours if the battery is removed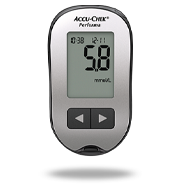 DISPLAY
Large LCD
RESULTS
5 seconds
EASY
No coding. No set-up.
SAMPLE
Tiny: 0.6µL
WEIGHT
59g with battery
How to use the Accu-Chek Performa blood glucose meter
Get results in 3 steps:
Insert your test strip into the meter and it turns on automatically.
Apply your blood sample to the easy-to-see yellow window. Only 1 small drop is needed.
In approximately 5 seconds, your test results will appear in the easy-to-read display.
Additional Specifications
Serial number:
Unique serial number printed on a label on the device and stored in non-volatile memory
Measuring principle:
Mutant variant of quinoprotein glucose dehydrogenase (Mut. Q-GDH), electrochemical 
Measuring conditions:
Temperature: 8°C to 44°C (46°F to 111°F) 
Storage conditions:
-25°C to + 70°C (-13°F to +158°F) 
Memory capacity:
Up to 500 total results, plus 20 control tests 
Display:
Large LCD display with symbols 
Battery:
1 battery, 3-volt lithium coin-cell type CR2032
WARNING - KEEP BATTERIES OUT OF REACH OF CHILDREN. If you suspect your child has swallowed or inserted a button (coin cell) battery immediately call the 24-hour Poisons Information Centre
on 13 11 26 for fast, expert advice.
Battery life:
Approximately 2,000 measurements
Auto power off:
After 2 minutes undisturbed with strip inserted, or if powered on but left undisturbed for 2 minutes
Altitude independence:
0 to 3,094 m (0 to 10,150 ft.)
Measuring range:
10 mg/dL – 600 mg/dL
0.6 mmol/L – 33.3 mmol/L 
Sample types:
Capillary, venous, arterial, and neonate
Test strip stability:
18 months after production date; test strips remain stable up to expiry date printed on test strip vial, even after opening (test strip container must be closed tightly after each test strip is removed)