Item Description
Enables transfer information from Accu-Chek blood glucose meters or Accu-Chek insulin pumps. Review your diabetes data in a variety of formats that display information over days or weeks to help you recognise patterns in your glucose levels and identify ways to improve your diabetes management.
Note: before making any changes to any medication or healthcare plan it is recommended to speak to your diabetes healthcare team.
Product Download
Benefits and Features
View and save data from Accu-Chek blood glucose meters, as well as an Accu-Chek insulin pump. Enables print or PDF format to support review with your doctor or healthcare team
Customisable software layout to help suit your needs and preferred report formats
Simple, easy to read layouts allow you to quickly identify glucose trends and analyse changes in your routine such as diet or exercise
By seeing your data graphically, it may be easier for you and your healthcare professional to pinpoint trends and patterns that may assist your diabetes management.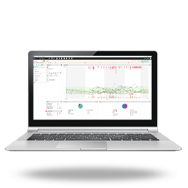 DOWNLOAD FROM
Accu-Chek blood glucose meters and insulin pumps (refer to Specifications)
TRACKS
Blood glucose, insulin doses
OPERATING SYSTEM
Windows (refer to Specifications)
Getting started with the Accu-Chek Smart Pix software
After confirming software compatibility as shown in the table above, here are the quick steps to get you started with the Accu-Chek Smart Pix software:
Note: Before getting started, we recommend checking you have administration/installation rights on your computer. To enable the software to connect to Accu-Chek diabetes devices, you will be prompted to install device drivers during the software setup.
Download the Accu-Chek Smart Pix software installer file on this page under the heading Product Downloads.
Locate the downloaded copy of the installer file and double click to start the installation. Follow the prompts of the installer. When you reach the prompt regarding driver installation, tick the box to install drivers (these enable the software to read Accu-Chek devices with a Micro-USB Type-B connection.
Once installed, open the program to begin use. To access the User's Manual you can click the ? Help icon. The User's Manual will provide further details on personalised setup as well as information about the types of reports that can be viewed using the software.
Specifications
Internet connection:
Only required for initial software file download and where you wish to apply software updates. Internet connection also required when sending data/reports by email
Data transfer connection:
Micro-USB cable (USB Type-A to Micro-USB Type-B) or Accu-Chek Smart Pix device reader Model I or Model II (infra-red)
Diabetes device compatibility:
Accu-Chek blood glucose meters or insulin pump system devices with Micro-USB Type-B port type: Driver installation required as part of software installation
Accu-Chek blood glucose meters or insulin pump devices with infra-red communication: Requires Accu-Chek Smart Pix device reader (no longer distributed)