Item Description
Feel free to eat what you love without having to perform complex calculations to determine how much insulin you need. Get personalised insulin dose or carbohydrate intake  advice based on the food you eat, your current blood glucose level, and insulin already in your system.
Benefits and Features
Calculates the precise amount of insulin you need based on the blood glucose result, expected carb intake and insulin onboard
Helps minimise insulin "stacking" which can lead to lows
Automatically stores blood glucose, insulin and carb data so you don't have to log it
Easy-to-read colour display shows day, week, and month overviews, bringing trends and graphs to life
Offers insulin-advice settings personalised to suit your needs based on activity level, health events and current status
Preset and customisable alarms and reminders
Receive alerts based on hyper and hypo warning limits
Pre-coded for the life of the meter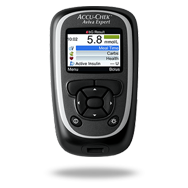 DISPLAY
Full-colour backlit LCD
RESULTS
5 seconds
SIZE
94 x 53 x 25 mm
BATTERY TYPE
3 AAA
TEST STRIP
Accu-Chek Aviva
LANCING DEVICE
Accu-Chek FastClix (single patient use only)
How to use
User Manuals
Your user manual gives you step-by-step details about all the features of this blood glucose meter.
Checking blood glucose
The Accu-Chek Aviva Expert blood glucose meter is designed to give you confidence in the accuracy of your blood glucose results. Insert an Accu-Chek Aviva test strip into the meter, the meter will turn on automatically.
Use the lancing device (for single patient use only) to prick the side of a fingertip. Gently squeeze the fingertip to produce a small drop of blood.
Touch the drop of blood to the tip of the test strip—do not apply to top of the strip. The Accu-Chek Aviva test strip fills quickly and easily with only a tiny, 0.6 microlitre drop of blood.
A flashing hourglass lets you know when enough blood has been applied. Your result will appear in the display.
Additional Specifications
Display:
Full color LCD with backlight
Weight:
Approximately 103g with batteries
Data management:
Track blood glucose, meal time, carbohydrates, health events and basal and bolus insulin; Display data in graphical or table format
Additional features:
Auto power off after two minutes