Item Description
Meet the Accu-Chek Solo micropump system. The first detachable micropump that frees you from the tubing of conventional insulin pump therapy.
Accu-Chek Solo insulin pump system
Feeling attached or connected to an insulin pump 24/7 can be frustrating and even a reason someone with diabetes may not want to use an insulin pump. The Accu-Chek Solo micropump is small, lightweight and tube-free so you can have flexibility with choosing where to wear it without missing the potential benefits of insulin pump therapy.
The partnership working together
Paired using Bluetooth® communication, the diabetes manager device serves as a remote control to operate the insulin pump without needing to touch the pump each time. This design offers discretion but also enables flexibility with bolus delivery also available directly from the pump if the diabetes manager is unavailable.
Made for flexibility in your life
Everyone's different. The Accu-Chek Solo system aims to support that. Whether you're planning a certain activity or wanting to wear a particular outfit, you can choose where to wear it (please consult your healthcare professional for most appropriate locations). And our favourite part - no pump tubing and no carry case or pouch to work around.
Micropump features and benefits
Tube-free small and lightweight and adheres to the body without needing a pouch or carry case for the pump
Integrated battery in reservoir meaning no need to purchase separate batteries for the pump
Reservoir for up to 200 units, lasts up to four days
Cannula length choices of 6mm or 9mm to suit body type and infusion site location
Flexibility to chose where to wear the pump from four possible infusion site areas
Quick bolus buttons for bolus delivery from the pump without the diabetes manager. These buttons enable bolus delivery, flight mode setting and mute of messages temporarily direct from the micropump.
Quick bolus customisation allows choice of 0.2, 0.5, 1.0 or 2.0 units per press with the quick bolus buttons
Modular design to detach and reattach the micropump without wasting insulin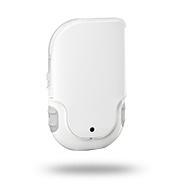 Note: For full specifications please refer to the product User's Manual available in the Product Manuals section below.
Specifications
Dimensions:
Approx. 63 x 39 x 14 mm (LxWxH)
Weight:
Micropump with filled reservoir <29 g
Pump casing:
Impact and scratch resistant plastic (polycarbonate)
Basal rate:
Minimum: 0.1 U / h
Maximum: 25.0 U / h
Basal rate increments:
0.1 U up to under 5.0 U: increments of 0.01 units
5.0 U up to under 25.0 U: increments of 0.1 units
Basal rate profiles:
Up to 5 customisable profiles
Temporary Basal Rate (TBR):
0–90% for basal rate reductions and 110–250% for basal rate increases in increments of 10%
The duration is adjustable in 15-minute increments for a time period of up to 24 hours
Up to 5 individual TBRs can be programmed
Bolus types:
Standard bolus, quick bolus, extended bolus, multiwave bolus
Bolus amount minimum/maximum:
Minimum: 0.2 units
Maximum: 50 units
Bolus increments:
0.2 U up to under 2.0 U: increments of 0.05 U
2.0 U up to under 5.0 U: increments of 0.1 U
5.0 U up to under 10.0 U: increments of 0.2 U
10.0 U up to under 20.0 U: increments of 0.5 U
20.0 U up to 50.0 U: increments of 1.0 U
The duration of an extended bolus or multiwave bolus is adjustable in 15-minute increments for a time period of up to 24 hours.
Quick bolus increments:
0.2 U / 0.5 U / 1.0 U and 2.0 U
Capacity of the reservoir:
Maximum fill: 200 units 
Minimum fill: 80 units
Communication range:
2 metres (the range may be impaired by obstacles)
Insulin compatibility:
U100 insulins: Humalog®, NovoLog®, NovoRapid®, Apidra®, Insuman® Infusat, Fiasp®
Power supply:
1.4 V zinc-air battery for the micropump power supply is integrated into the reservoir
Diabetes Manager features and benefits
Direct access to key features via the status screen: deliver bolus, changing infusion assembly or adjust basal rate
Clinically proven bolus advisor1
Basal insulin delivery: Program 5 basal rate profiles and store up to 5 customised temporary basal rates
Bolus insulin delivery: offers 3 different types of boluses
MDI mode enables temporary switch to insulin pen therapy without losing important data
Colour touchscreen with optional PIN lock
Individually customisable alarms and reminders
Blood glucose measuring with Accu-Chek Aviva test strip technology whilst also allowing the manual entry from a CGM or flash glucose monitoring device
Data in the palm of your hand glucose and insulin information visible on the status screen: last glucose value, current basal rate, running bolus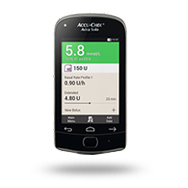 1 Zisser H, Wagner R, et al. Clinical performance of three bolus calculators in subjects with type 1 diabetes mellitus: a head-to-head-to-head comparison. Diabetes Technology & Therapeutics. 2010; 12 (12): 955-961
Specifications
Device type:
The Accu-Chek Solo diabetes manager is used to configure and control the micropump. The Accu-Chek Solo diabetes manager is needed to fulfil the intended purpose of the Accu-Chek Solo micropump.
Screen:
Capacitive colour LED multi-touch screen with back light
Screen Timeout:
After 2 minutes of no activity
Dimensions:
Approx. 124 x 64 x 17 mm (LxWxH)
Signal reproduction:
Graphical user interface, status LED, speakers, vibration alarm
Data transfer between the micropump and the diabetes manager:
Bluetooth Low Energy (BLE) wireless technology
Signal types:
Visual, acoustic, vibration
Memory capacity:
5,000 blood glucose measurements, 5,000 logbook entries, 5,000 pump events
Test strip port:
Illuminated test strip slot for Accu-Chek Aviva test strips
Test principle:
Refer to test strip package insert
Test time:
Refer to test strip package insert
Blood sample:
Refer to test strip package insert
Sample type:
Refer to test strip package insert
Videos
Accu-Chek Solo - How to detach and re-attach the micropump