You'll see the difference with before-and-after testing. Whether you are newly diagnosed or have been living with diabetes for some time, it is important to manage your blood glucose. Monitoring your blood glucose (or sugar) levels performs an important role in helping you understand what is happening on a day-to-day basis. Remember that one blood glucose value from a check does not tell you the whole story! When you constantly check at the right time and frequently enough in a structured manner, blood glucose patterns emerge. This can give you a better understanding of the fluctuations in your blood glucose, which are linked to your daily habits. The Accu-Chek® Testing in Pairs is a simple paper tool (hyperlink: to attached pdf ) designed to help you see changes in your blood glucose before and after a specific meal, exercise, or other events. Use it to discover how one thing in your daily routine can affect your blood glucose.
What could you learn?
Does what and how much I eat make a difference in my result?
Does activity/exercise affect my blood glucose?
Does packing my lunch instead of eating out affect my blood glucose?
Here's how it works: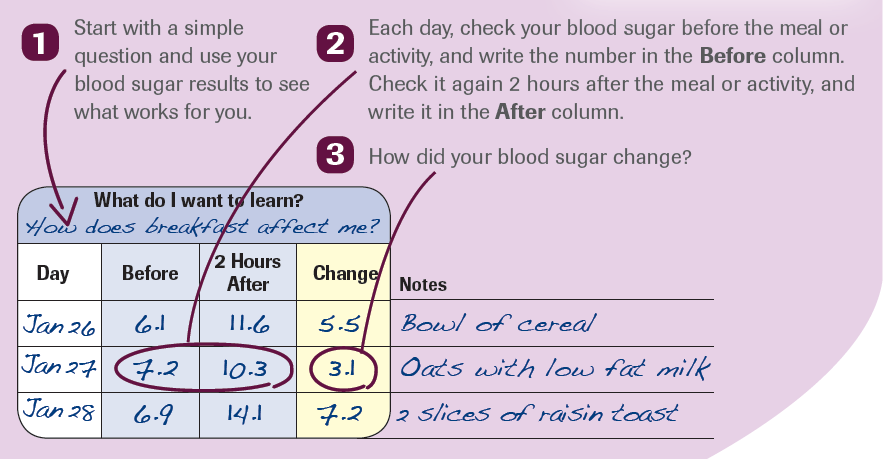 Sample data only.
You can take that same step today – simply
download the Accu-Chek® Testing in Pairs tool
, and see for yourself how before-and-after testing can make a difference!
Talk to your Healthcare Professional about any queries you have as a result of using the tool including what your target range should be - it can be a great basis to discuss your diabetes therapy. Always consult your healthcare professional before making any therapy changes.
Tools and resources to help monitor and record your blood glucose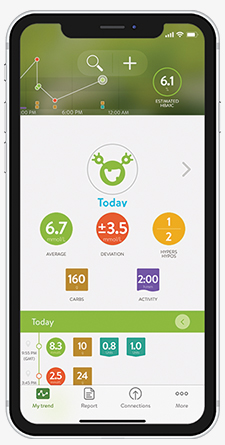 Discover mySugr: diabetes app
mySugr app©
The mySugr app will be your best companion to monitor and manage your diabetes.
Easy logging of blood glucose, meals, photos and more
No more surprises; estimated HbA1c
Bolus calculator and test reminders
Find out more or download the mySugr app: