Item Description
With a diabetes companion that's there for you anytime, anywhere and for free, you can face the challenges of diabetes with confidence. Sync with your Accu-Chek Guide meter to track blood glucose results wirelessly on your Apple or Android mobile device.
Benefits and Features
Quick and easy logging of meals, diet, medications, carbohydrates, blood glucose levels and more
Personalised logging screen—add, remove and reorder fields
Clear blood glucose graphs
Estimated A1C level at a glance
Daily, weekly and monthly analysis
Exciting challenges to achieve personal therapy goals
Motivating feedback to keep you going
Secure tracker data backup
Insightful data analysis
Apple Health® and Google Fit integration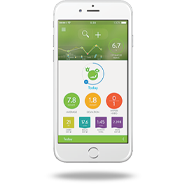 TRACK
Blood glucose, Meals, Carbohydrates, Activities, Medication
INTEGRATION
Apple Health®, Google Fit
COMPATIBILITY
Android, Apple
How to transfer data
Follow the steps below to pair your Accu-Chek Guide meter with your smartphone and then transfer your results to the mySugr App.
Apple
Make sure Bluetooth® is turned on.
Open the mySugr App and find Connections in the side menu. Select your meter—Accu-Chek Guide and activate it.
 
Android
Open the mySugr App and find Connections in the side menu.
Bluetooth will be automatically activated on your smartphone if it's not currently active.
Apple and Android
Turn on your meter.
Go into Settings on the meter.
Select Wireless then Pairing then Pair Device and follow the on-screen instructions to create a new wireless connection.
Watch for a pairing notification on your smartphone—via popup message or the notification center.
Enter the meter code into your smartphone.
You'll receive a message that pairing was successful. Your meter is now connected to your mobile device!
Return to the mySugr App home screen via the side menu. On your meter, tap My Data then Data Transfer and Wireless to transfer results.
Still can't find what you need? Please visit mySugr support
Additional Specifications
Data transfer:
Accu-Chek Guide meter communicates via Bluetooth® wireless technology; Other Accu-Chek meters require manual data entry
Operating system:
Android (4.3 or later) or Apple/iOS (9.3 or later)